Erectile Dysfunction & Female Orgasmic Disorder
Duo® For Erectile Dysfunction and Female Orgasmic Disorder in Niagara Falls, ON.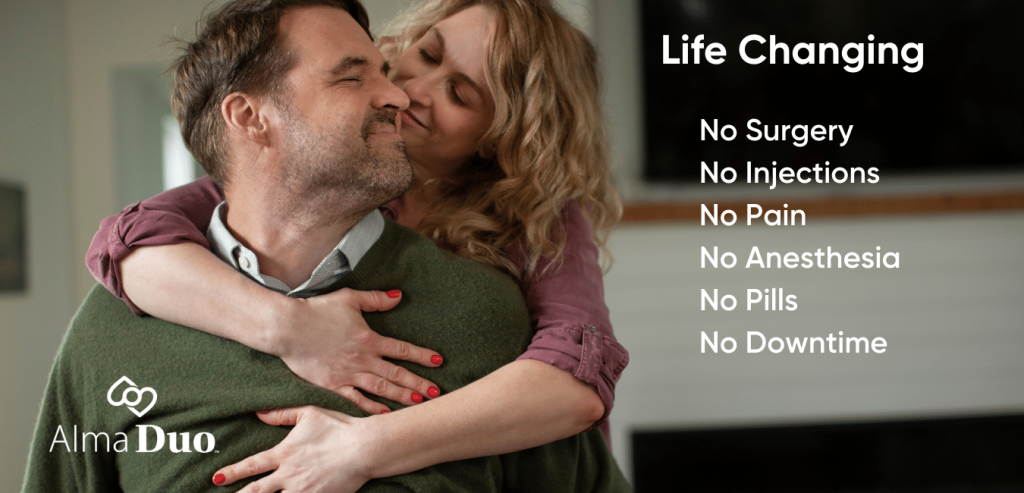 What is Erectile Dysfunction/FOD?
How many men have ED? 
52% of "normal men" in the general population aged 40-70 suffer from Erectile dysfunction!
What are other contributing factors? 
ED manifests earlier in smokers, obese, and patients with other risk factors.
In fact,  erectile dysfunction can be the first manifestation of macrovascular disease in diabetes & coronary artery or cerebrovascular disease. Most ED cases are vascular-related where there is diminished blood flow to the penis and therefore more quick venous return & hence less blood in the penis.
In women similarly, when they are aroused, the clitoris becomes stiff and swollen — just like a penis.
Female orgasmic disorder FOD  
This is also common in women. 70% of women do not orgasm during sex & 60% are dissatisfied with their sex life. 16-28% of women suffer from FOD.
While Shock wave therapy stimulates new blood vessels we need to address other issues, eg: hormones.
At New Creation MediCosmetic Centre, Dr. Kelada-Sedra links her understanding of human hormones to the process of metabolism and disease prevention & control. 
We know that Testosterone deficiency leads to reduced lipolysis, reduced metabolic rate, more visceral fat deposition & insulin resistance. This is often a factor in erectile dysfunction that Dr. Kelada-Sedra is willing to explore with you at her hormone supplementation clinic.
The goal is early detection of risk factors. Erectile dysfunction FOD is endothelial dysfunction and hypogonadal dysfunction. Working with a physician that understands the risk factors of hypertension, diabetes, dyslipidemia & obesity to prevent outcomes of Diabetes, coronary artery disease, stroke & PVD.
The goal is: "to add life to years not necessarily years to life"  Hormone replacement results in optimal health, strength & sense of well-being.
Make an appointment for Metabolic review & hormone optimization. This is separated from her family practice. 
The Alma Duo® For Erectile Dysfunction
ED Shockwave Therapy is a game-changing treatment that allows men with ED to regain their normal and natural response to sexual arousal – without drugs, needles, surgery, downtime, or side effects.
Erectile dysfunction is typically the result of poor circulation to the penis among psychological factors. The Alma Duo® uses low-intensity waves applied by shockwave therapy to stimulate the repair of aged blood vessels, stimulate growth of new blood vessels, and stimulate the removal of micro-plaque.
The Alma Duo® treats the cause of erectile dysfunction, and not just its symptoms.
Shockwave therapy has been successfully tested and regularly used in various areas of medicine including Orthopedics, Aesthetic Medicine, and Sports Medicine. There are numerous scientific studies that show shockwave therapy can potentially improve local revascularization (regeneration of blood vessels and enhanced blood flow) on a variety of body parts, including the penis.
The goal of ED shockwave therapy (Li-ESWT) is to trigger regeneration of blood vessels in the penile shaft to support stronger, longer, and more satisfying erections. Li-ESWT is currently considered an investigational treatment modality for ED according to the 2018 erectile dysfunction guideline by the American Urological Association.
Inside the penis is an area called the corpora cavernosa, containing two arteries. An erection occurs when they are filled with blood that's held in place until ejaculation or orgasm is achieved.
When there is insufficient blood flow, the penis remains flaccid. The Alma Duo directs energy waves, (extra corporeal shockwaves) with the goal to improve blood flow to the penis.
The successful use of Li-ESWT is highly documented in many fields of healthcare, including Physiotherapy, Urology and Pain Management.
The waves are targeted to the area of the body where blood flow has been constrained due to micro-plaques. The procedure is safe for men with heart disease, unlike some erectile dysfunction medications that are easy to obtain.
The Alma Duo® (Li-ESWT) is a revolutionary treatment that can potentially help men regain sexual desire and satisfaction.
Li-ESWT could be a viable option for you if:
You want to be less dependent on medications to have sex.
You have experienced undesirable side effects with other treatments.
You have not achieved satisfactory results with other ED treatments.
You have health conditions that limit your options for treatment.
You wish to optimize your sexual performance by having harder, longer lasting erections.
The energy pulses in Li-ESWT are similar to sound waves. There's no discomfort during or after the procedure and can be done during a lunch break.
Benefits of the Alma Duo® Li-ESWT include:
Painless
The Alma Duo® penetrates to a depth of 135 mm compared to other devices that only reach 15 mm
Treatments are completed within 20-minutes
Only 6 treatment sessions over a three-week period
No recovery or downtime
The Alma Duo® helps improve the volume of blood flow into tissue with the goals of helping you achieve an erection suitable for sexual activity.
Patients generally see results in several weeks and can retain those benefits for up to one year or longer depending on their lifestyle.
Shockwave therapy is an option that treats a physical cause and requires no planning, pills, surgery, implants, and is non-invasive. Men who were forced to rely on medication can once again naturally and spontaneously respond to arousal. For those who cannot use medications, the Alma Duo® Li-ESWT opens a new path for regaining sexual wellness.
The ultimate goal of shockwave is to help you restore intimacy with your partner.
*Results may vary
*From W.C (Anonymous Patient)*
"Prior to my treatment with Alma Duo, I was having difficulty getting and then maintaining an erection that was strong enough to get through sex.  I decided to try Alma Duo based on the fact it was clinically proven to show positive results in a short period of time.  Talking about one's personal sexual health can be awkward and embarrassing.  I found Dr. Kelada-Sedra and her staff to be professional and respectful.  I was leery about any positive outcome and was not expecting the improvement I achieved so rapidly.  After only 2 treatments I noted significant improvement in my ability to get and maintain an erection.  The treatment lasted no more than 15 minutes.  There was no pain, no injections.  I would highly recommend Dr. Kelada-Sedra for her thorough medical history review and approach to treating men with erectile dysfunction.  I'm so pleased with the positive outcomes I achieved."
Frequently Asked Questions
For More Information about any condition, or to schedule an appointment, call us at (905) 937-9559 or click the button below to contact us online
Our Sexual Health Services